Skype is a software program which enables people to make voice calls, video calls,
and group video calls through the internet.
Voice calls are similar in manner to traditional phone calls,
video calls allows you to speak face to face with the person who you are talking with, and
group video calls (we recommend calls with up to five people) are available for free among Skype users.

You can use the functions of Skype to communicate with other users of this website.
Please make sure that you have prepared a web camera and head-set microphone in order to use this website.
Most computers nowadays contain cameras and microphones already installed, in which case you do not need said equipment.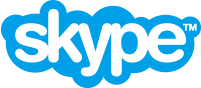 Installing Skype
Skype can be installed on your computer by registering on the Skype website.

Create your account on Skype
Please go to the create account page on the Skype website and create your account by filling in the required fields. The Skype page is here.

Download Skype
Please go to the download page and click the download button.
Then, please open the downloaded file and continue by installing Skype.
The Skype website is here.


Login to Skype
Skype will be available when you start Skype and log in by inputting your Skype Name and password.
After logging in, you can check your microphone by performing a Skype test call. With that, installation of Skype is complete.
Please log into Skype before you use this website.
You can make voice calls or video calls to other users of this website and will receive calls from the users who got your permission in advance. Press the call button and enjoy chatting over coffee.